NOT to be confused with the Life Path Number, the Destiny Number (also known as Expression Number) is one of the core components in your numerology chart.
This Number holds a powerful frequency, which reveals the way you "express" your gifts and talents in the world. So whilst the Life Path Number describes the direction of your journey through life (AKA your life purpose) the Destiny Number tells you what the journey is going to look like.
Destiny / Expression Number 6
In Numerology, the Destiny or Expression Number 6 is all about love, beauty and nurturing. The energy of the number 6 is generous, compassionate and selfless. So whenever it appears in a Numerology chart, you can be sure that the person it describes is loving, caring, and has gifts in the healing realms.
Read on to discover more about this number or download your free repeating numbers handbook here.
People with a Destiny Number 6 often have maternal sensibilities.
They seem to sense what people need to grow, and have the skills to provide it. They're proficient caregivers, creating environments of harmony and nurturing. Destiny Number 6s are often able to hold responsibilities, whilst still remaining soft, tender and understanding.
This Destiny Number is known for its love of children and animals, and its ability to sooth and provide comfort where needed.
ESSENTIAL READING: MEANING, MYSTERY, AND MAGIC OF THE NUMBER 6
This Destiny Number also expresses creative talents!
These folks are often the witches and wizards of their community, whipping up a feast out of nothing but leftovers, or a fancy dress costume from frayed bits of fabric. Or perhaps their creative skills are in untying the emotional knots that their BFF has tied themself into?
Whatever is required, those with this Numerology tend to be the quick, creative thinkers who can come up with a way to avert a crisis and smooth the path, for others to rise into becoming their best selves.
Destiny Number Six Work and Lifestyle
It goes without saying that 6 Expression Numbers perform best when they are in caring roles.
Working in nursing, childcare, hospitality or other service roles are likely to bring success and fulfillment. Finding a niche as a counselor or therapist could also be ideal. But placing their own well being is key. As without a little well-placed, self-centered nurture, care and of course, boundaries, the balance may tip and the 6 Expression Number may exhaust their reserves.
But these beautiful people also need their creative energies to be used.
So work in the arts, with food, fashion, or even music could all be options. And even if there's not money to be made in creative fields, it's vital for those with this Destiny Number to find hobbies and other expressions of their arty, crafty talents.
Shadow and Challenges.. Is there a "negative side" to the Destiny Number Six?
When not expressing at their highest, the Destiny Number 6 can become over-controlling and even turn into martyrs. For this reason, it's vital for these people to keep their standards in check – and by that, we mean, keeping them low enough for everyone else to attain them! Otherwise, the Destiny Number 6 will never be satisfied, as friends and family can never quite hit the mark.
So release that perfectionism, Destiny Number 6!
Another sticky spot for this number is their need to always be dealing with some kind of crisis. Yes, they're good at it! But when is IS plain sailing in life, they can tend to stir up a little trouble, just to give them something (or someone) to save.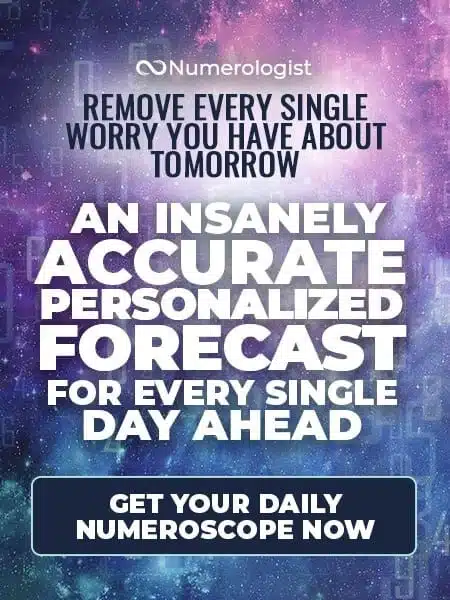 Pin
Need to Calculate Your Expression / Destiny Number?
In Numerology, the Expression / Destiny Number is calculated using the corresponding numbers for each letter in your full birth name. Here at Numerologist.com, we use the Pythagorean system.
These numbers are summed and reduced until a single digit (or master number) is revealed. Remember that this number can't come from your nickname or your married name, but must be the name that's written in full on your birth certificate.
Using the chart below, take the values assigned to each letter of your entire name and add them all together.
Add those numbers together, and reduce this to a single digit (or master number) Easy!
1
2
3
4
5
6
7
8
9
A
B
C
D
E
F
G
H
I
J
K
L
M
N
O
P
Q
R
S
T
U
V
W
X
Y
Z
The Master Number Exception
11 and 22 (and sometimes 33) are Master Numbers, and they have unique meanings that require stand-alone readings. If you reach totals of 11 or 22, don't continue reducing until you reach only one digit. So stop your calculation there.
ESSENTIAL READING: THE MEANING OF MASTER NUMBERS 11, 22 AND 33
But… if the math is a little too much for you, there's an easier way to find out your Destiny / Expression Number: using our free Numerology Calculator! Just click the button below, enter your info and we'll do the decoding for you!
Not Your Destiny Number?
Follow the links below to discover more about the other numbers…
Now share with us – what's YOUR Expression Number? And what does it reveal about your skills, talents and gifts in life? Let us know in the comments below!
---
Ready to Discover More about your Numerology Chart?
Just pop in your birth name and birthday and your free numerology reading (containing Life Path Number and Soul Urge Number readings) will be ready!