NOT to be confused with the Life Path Number, the Destiny Number (also known as Expression Number) is one of the core components in your numerology chart.
This powerful and insightful Number holds a powerful frequency, which reveals the way you "express" your gifts and talents in the world. So whilst the Life Path Number describes the direction of your journey through life (AKA your life purpose) the Destiny Number tells you what the journey is going to look like.
Destiny / Expression Number 5
In Numerology, the Destiny or Expression Number 5 is all about movement, variety, and freedom. The number 5 is energetic and adventurous. So whenever it appears in a Numerology chart, you can be sure that the person it describes is a born explorer, a natural risk-taker and an overall free-spirit!
Read on to discover more about this number or download your free repeating numbers handbook here.
People with a Destiny Number 5 often have a hundred spinning plates, all at the same time!
They are blessed with numerous different skills and talents, enabling them to keep a whole range of different projects going simultaneously. They are lively, sensory-centered folks. Just like the 5 senses we all have, or the 5 digits of each hand, number 5s experience life, and express themselves, through their senses.
ESSENTIAL READING: MEANING, MYSTERY, AND MAGIC OF THE NUMBER 5
This Destiny Number also expresses a hardworking and tenacious personality.
With such vivacious personalities, Number 5s usually have great social skills and know how to spin a yarn or two. They're great communicators, and adept at making connections between people. Just as this number comes at the center of the set of 9 (with four numbers coming before it, and four numbers after), the Expression Number 5 also serves at this central, spinning axis around which others spin.
Destiny Number Five Work and Lifestyle
5 Expression Numbers perform best when they have a whole range of different tasks to tackle.
Keeping to the same old routine is like a death knell to these folks. For this reason, careers, where travel is required, are ideal. Entrepreneurship may be a good route to go down too, as it means the 5 Destiny Number can draw their own map and find freedom when they need it.
Other possible professions and areas of success may include teaching or mentorship. Because Destiny Number 5s tend to gather so much experience, and express such a mixed bag of skills and expertise through their lives, they often have naturally inspiring personalities.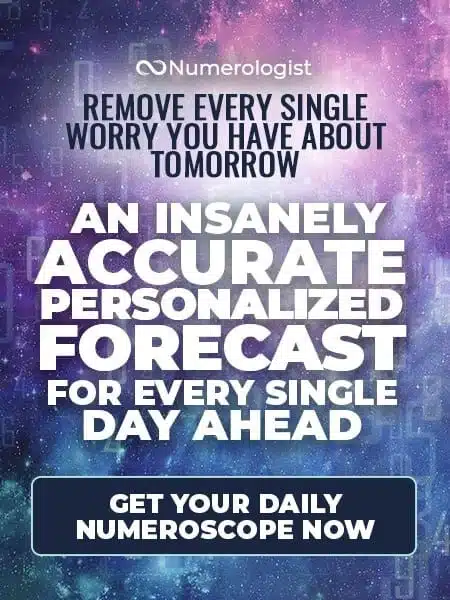 Pin
Shadow and Challenges.. Is there a "negative side" to the Destiny Number Five?
With such a varied skill-set, Destiny Number 5s can tend to become a "Jack of all trades, and a master of none". Similarly to the Expression Number 3, these folks would do well to learn discipline from an early age. Otherwise, a lack of commitment can be their downfall.
With such a searching, "carpe diem" kind of attitude to life, getting down and dirty with the humdrum of everyday life can also be a real struggle for this Destiny Number.
We know routine is their nemesis, and freedom beckons around every corner. Yet routine a part of life that can't easily be escaped… Unless you're a Destiny Number 5, in which case you'll surely try!
Need to Calculate Your Expression / Destiny Number?
In Numerology, the Expression / Destiny Number is calculated using the corresponding numbers for each letter in your full birth name. Here at Numerologist.com, we use the Pythagorean system.
These numbers are summed and reduced until a single digit (or master number) is revealed. Remember that this number can't come from your nickname or your married name, but must be the name that's written in full on your birth certificate.
Using the chart below, take the values assigned to each letter of your entire name and add them all together.
Add those numbers together, and reduce this to a single digit (or master number) Easy!
1
2
3
4
5
6
7
8
9
A
B
C
D
E
F
G
H
I
J
K
L
M
N
O
P
Q
R
S
T
U
V
W
X
Y
Z
The Master Number Exception
11 and 22 (and sometimes 33) are Master Numbers, and they have unique meanings that require stand-alone readings. If you reach totals of 11 or 22, don't continue reducing until you reach only one digit. So stop your calculation there.
ESSENTIAL READING: THE MEANING OF MASTER NUMBERS 11, 22 AND 33
But… if the math is a little too much for you, there's an easier way to find out your Destiny / Expression Number: using our free Numerology Calculator! Just click the button below, enter your info and we'll do the decoding for you!
Not Your Destiny Number?
Follow the links below to discover more about the other numbers…
Now share with us – what's YOUR Expression Number? And what does it reveal about your skills, talents and gifts in life? Let us know in the comments below!
---
Ready to Discover More about your Numerology Chart?
Just pop in your birth name and birthday and your free numerology reading (containing Life Path Number and Soul Urge Number readings) will be ready!