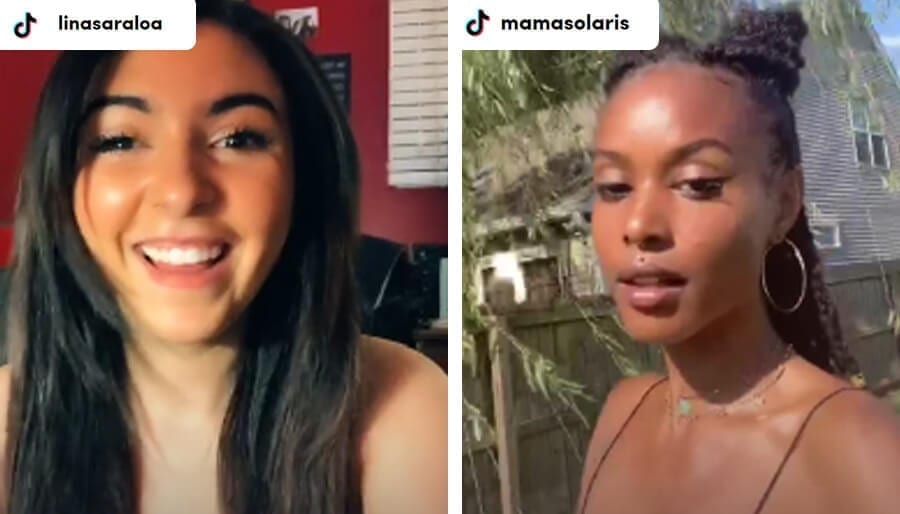 Pin
Social media has been an impactful addition to many aspects of our lives. Now, with cities, states, and entire countries putting in place measures to slow down the spread of COVID-19, looking for comfort in the virtual world has become commonplace for even the most tech-illiterate of us.
Over the last few months, there has also been an influx of regular content creators and influencers using their own brand to instill inspiration to break up the tension and help us get through these perilous times.
Enter TikTok. 
Before social distancing was a thing, TikTok was predominantly favored by Gen- Z teens who posted prank videos or the latest trending dance routine on the platform. But since the lockdown, TikTok has become a melting pot of user-generated content on spirituality, mysticism, and astrology.
No idea which spiritual TikToker to follow to soothe your socially-distanced soul? We got you!
Being encouraged to stay inside your house all day can bring you stress, worry, and anxiety. These direct a negative focus onto your burdens and lead you away from the path of your higher self.
Put it this way: A socially distanced soul may become devoid of the spiritual connections that lead to life's purpose of achieving the greatest existential fulfillment.
We get it. Our aim is to support you in your journey to deeper wisdom and greater self-knowledge because we know how much better life is when your soul is in tune with the universe. But sometimes this heavy subject can be a little intense, and looking to the lighter side may be the remedy you need. And that's exactly why we curated the top ten spiritual TikTokers who are sure to help you during this time of uncertainty.
Whether you're seeking spiritual enlightenment or simply want to soothe your socially-distanced soul, you'll find their stream of videos to be of interest to you.
1. Lina Sara (@linasaraloa)
"I have the power to. I'm confident. I expect only the best!" These are words that Lina Sara encourages you to speak when you manifest.
With over 303 thousand followers, this soft-spoken gal is on top of the list. Lina Sara shares her techniques on how to use the Law of Attraction to manifest love, happiness, wealth. Her daily posts include affirmations of self-love and success in accomplishing even the most mundane of tasks, like waking up in the morning and working out, to achieve peace with yourself and the Universe.
2. Sri Nitha Drishanda (@blissfulathlete)
The multi-faceted Sri Nithya Dridhananda is a former five-year pro hockey player, sports nutritionist, and functional strength coach. On top of all his qualifications, he is widely known in the spiritual realm as a disciple of Paramahamsa Nithyananda where he is an ordained Yoga Acharya.
He created his platform, where he regularly posts various meditation and Yogic techniques, to help awaken individuals to the inner potential energy within them. If you seek to improve your overall health and performance levels while connecting to the divine power that lays dormant within yourself, follow Drid and join 169.3 thousand others to an inner journey to discover the true potential of your body and mind.
3. Corina Nicole (@looloolentil)
Corina Nicole, a licensed acupuncturist, talks about Qi, the body's vital energy that guides our physical and mental processes.
Also known as "Tiny Medicine", Corina shares how blockages of qi, deficiencies of qi, and too much qi are what cause illnesses. In her videos, which are followed by 166.3 thousand followers, she teaches qi gong exercises for various parts of the body for health and stress management.
4. Ellis Anthony (@spiritofellis)
Ellis Anthony is a certified spiritual life coach and the host of the podcast, "Ditching Dogma". His videos of daily affirmations invite you and his 163.8 thousand followers to take a moment to stop and tell yourself that you're okay because deep down, nothing is wrong with you at all and you've been hard on yourself for too long.
Ellis shares simple morning spiritual routines that you must do daily to witness a positive change in your life:
Meditate for five to twenty minutes.
Write down three things that you are grateful for.
Pray for and think of good thoughts about three people.
5. Maren Altman (@marenaltman)
The raven-haired beauty who is almost always dressed in varying tones of alluring skintight red and black clothing describes herself as an earthling, cosmic fractal, and an intuitive being, among other things.
Maren Altman is also devoted to the science and art of astrology, as demonstrated in her high-level technical acumen and the focus she brings to both study and practice. Enhanced by her innate wisdom, her videos reflect her astrological readings, use of timing techniques, and natal analysis in determining what works best in helping her 120 thousand followers achieve oneness with the Universe.
6. Sah D'Simone (@sahdsimone)
Sassy spirituality.
Sah D'Simone synergizes spirituality with sass and delivers heart wisdom with the warmth of your best friend. A spiritual guide and meditation teacher, Sah has attracted 103 thousand followers whom he calls his "loves".  His videos invite you to a heart-based healing movement rooted in tried-and-true ancient techniques, allowing joy and authenticity to illuminate the path to enlightenment.
7. Simran (@simranexplores)
Unlike other spiritual TikTokers, Psychologist Simran is not featured in her videos. Instead, she posts videos of nature and sceneries in Australia with an overlay of high vibration journal prompts and mellow inspirational tunes.
Relaxing and uplifting, Simran has amassed 84.9 thousand followers who she encourages to embrace a growth mindset by believing in their abilities, embracing challenges, learning from criticism, and persisting in the face of obstacles.
8. Sia Natara (@mamasolaris)
Sia Natara aka Mama Solaris is a Reiki practitioner and energy reader. As a spiritual coach, she specializes in bridging the gap between spirituality and practicality. Her videos, which are consumed by her growing 80 thousand followers, channels the guidance that is necessary for the collective and individual ascension process.
If you're looking to take power over your energy, and power over your life, Mama Solaris' videos will show you how to read and interpret the human energy field and read, as well as diagnose chakra imbalances and blockages.
9. Christian Stockwell (@christianstockwell)
Christian Stockwell helps you evolve spiritually. He understands the common pitfalls to avoid and the simple solutions that'll allow you to reach your goals fast.
An energy coach, Christian shares his personal experience with anxiety, depression, and overwhelming spiritual awakenings in his TikTok videos that are updated daily for his 74.9 followers. His content also shows breathing and meditation techniques in order for you to go into deep states of subconscious suggestibility.
10. Cielo Canlas (@islandintuitive)
Cielo Canlas, an intuitive empath, is a certified energy medicine practitioner and life coach who posts videos on TikTok to share her valuable life experiences, lessons, wisdom, spiritual gifts, and soul's journey with her followers, so that they may feel empowered through their own journey of growth, healing, and balancing of their mind, body, and spirit.
Cielo goes live on Friday evenings (HST) where she does intuitive readings, chakra readings, soulmate connections,  among other things.
Connection Keeps Us Together
Cooped up inside our homes, not even able to go out to meet friends and see new places due to social distancing, does affect us after a certain point of time. That's just not how we operate.  We were not created to live in isolation.  We need meaningful social interaction. And while this may not be available to us in a long period of time, let us always remember to connect with our higher self and find inspiration in people that we can emulate to soothe our socially-distanced soul!
Have we mentioned your fave TikToker? Let us know whose content you've been loving, in the comments below…
---
CHECK OUT THESE RELATED BLOGS: