Known across the Isle of Man as the "Little People" fairies are no fantasy here…
Just like in the countries of Scandinavia, the Manx people have a rich and fiercely protected folklore. It's full of tales of the little people, but unlike fairytales, they're not consigned to the world of yesteryear.
In the Isle of Man, fairies live on.
And they've just got a whole lot more real.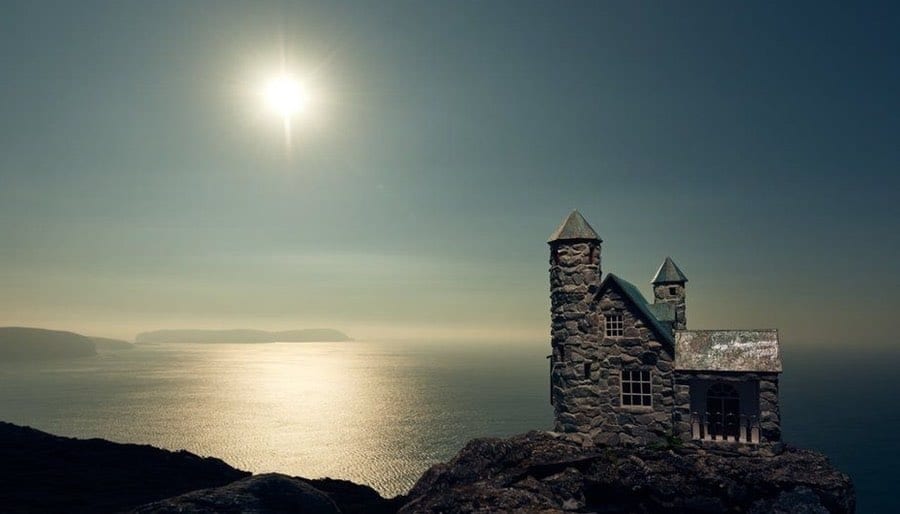 Pin
A village of tiny fairy houses has sprung up all this mystical place, sandwiched between North-west England and the Emerald Isle. Measuring no larger than 30 – 40cm high, each miniature, magical abode is perfectly formed. They've been painstakingly constructed from wood, concrete and stone, copper and even antique glass… everything you'd expect a fully-fledged human house to be made of.  Intricately designed and decorated these magical mansions have been fitted out ready for fairy royalty!
Pin
Pin
It wasn't long before Swedish art collective "Anonymouse MMX" claimed due credit for the appearance of these magical pieces on their (hugely popular) Instagram page.
"The Isle of Man has a long history with fairies, and their appearance and demeanor is not unlike those in Swedish folklore so we quickly found a kinship with that," Yasha Mousekewitz of Anonymouse has said
The fairy homes range from a weathered stone cottage perched atop a traditional clifftop stone wall, to an intricately carved wooden cabin, set within Dhoon Glen, one of the Isle's most beautiful and striking forests. Take a trip out there in the early evening, and as dusk falls, you'll see the minuscule domestic details within, as a gentle glow emerges from perfectly formed antique glass windows.
Pin
"We did most of the work back in Sweden but once transported over we did some final adjustments to make them blend into the scenery." Mousekewitz has said. "We want it to look like they've always been there."
So what do the "Little People" make of the new additions to their already-mystical homeland?
A Manx tradition – and one that all tourists are encouraged to keep – is waving a greeting to the fairies when crossing Fairy Bridge on the south of the Island (not greeting them at all is considered downright unlucky). Stick around Fairy Bridge long enough, and who knows, maybe you can ask them yourself…?
Anonymouse like to stay, well, pretty anonymous. But you can check out their latest tiny street art HERE.
We'd love to hear your impressions of these tiny, magical fairy homes.
Share your fairy love with us in the comments below!
*All images of fairy homes by Mikael Buck