Knowing how to be happy is something that possibly every one of us wants to truly understand. Whether you've been hurt and you want to understand how to be happy again, or you have come out of a relationship and need some guidance on how to be happy alone – or even if you do consider yourself as a happy person but just want to achieve a higher state of contentedness, this Angel Message Reading will help.
We're looking at delight in this Angel Message Reading and what you can do personally to achieve this wonderful sense of pleasure, gratification and satisfaction.
What is Delight?
Delight is something that we could all use a little more of in our lives. The vibration of delight is more than just that of being happy: it's a combination of feelings that combine to bring a sense of joy, contentedness, glee and excitement. Inviting delight into your life is understanding how to be happy on a higher level.
This Angel Message Reading will focus on delight and delve into how you can bring more joy into your life. The Angels want to give you guidance and teach you how to be happy, or happier! They want to access that vibration of light within your heart and help you find the best way for you to personally draw it out, so you can reconnect with happiness and joy.
But we'll also look at what the Angels want to share with you about what delights them about you!
For this Angel Message Reading, we'll be using Doreen Virtue's Daily Guidance Angel Cards.
Angel Message #1
How To Be Happy With Card One: Shower of Abundance
PinThis card brings with it a vibration of blessings and indicates that your heart is open to accept the abundance, in whatever form, to your life. All kinds of wonderful things are coming in for you – love, coincidences, blessings – and that brings you enormous delight, but it also brings your Angels enormous delight too.
So, that is really 'how to be happy' message #1 here: embrace the openness of your heart, even if you're going through lots of changes or challenges in your life. Your heart is raw and ready to receive, and your Angels are saying, "Stay like that! Be Open!"
The message on the card says…
"To heal your financial situation, first give us your worries concerning money. We will guide you in order to show you how to create and accept abundance. As we work together, your financial situation will heal as fast as you'll allow."
…and although the message here is largely about how to be happy in a financial sense, I also feel that the delight comes not just from your financial wealth, but also a wealth of happiness and joy in your life to.
There's a feeling that you've come to this place where you're open to receiving all of the blessings from your Angels. If you feel that you're blocked in any way, your Angels are asking you to give up that energy to your angelic realm to make way for the abundance to come in.
Angel Message #2
How To Be Happy With Card Two: Fresh Air
PinThis card brings a vibration of being out of the open and a sense of freedom. So, one of the biggest messages for you when it comes to how to be happy, is that a connection to nature is important. Allowing fresh air to move through your energy field will help you release whatever you've been holding on to. Your Angels are inviting you to physically take lots of deep breaths to invite delight into your life and release and let go if any toxic energy that is in your physical system, but also in your emotional and mental systems too.
The message on the cards says…
"Your body needs refreshment from oxygenated air generated by grass, trees, plants and flowers. Spend time outside today, as near to Mother Nature's cradle as possible. Open your curtains and windows to refresh your home as well."
This connection to nature will also open a window to help you connect with your Angels and your Guides. So if you can't be in nature today, have a plant or flowers around you, or simply visualize yourself in nature, where you're breathing in that fresh air.
Your Angels want to connect with and inspire you and being in a natural environment will help this to happen.
Angel Message #3
How To Be Happy With Card Two: Reward Yourself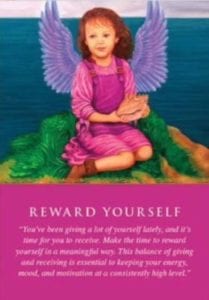 PinThe main 'how to be happy' message with this card is about listening to your heart. There's a sense that you're holding your heart right now, and your delight comes in taking some time out. So, put your feet up, slow down and give yourself some space to let go and reconnect to Source and your own center. Give yourself as long as you can. Give yourself love and think about what you can reward yourself with today that will spark joy and delight in your life.
Your angels want to tell you that they want to give to you, so it's important that you're open to receive their love.
The message on this card says…
"You've been giving a lot of yourself lately, and it's time for you to receive. Make the time to reward yourself in a meaningful way. This balance of giving and receiving is essential to keeping your energy, mood and motivation at a consistently high level."
The main message for you here is that when you give back to yourself, you'll experience a sense of lightness and you'll feel re-energized and more at peace. This is how happiness and delight manifest in you!
Let me know in the comments below whether your Angel Message resonated with you and tell me whether it helped you on your personal journey to greater happiness.